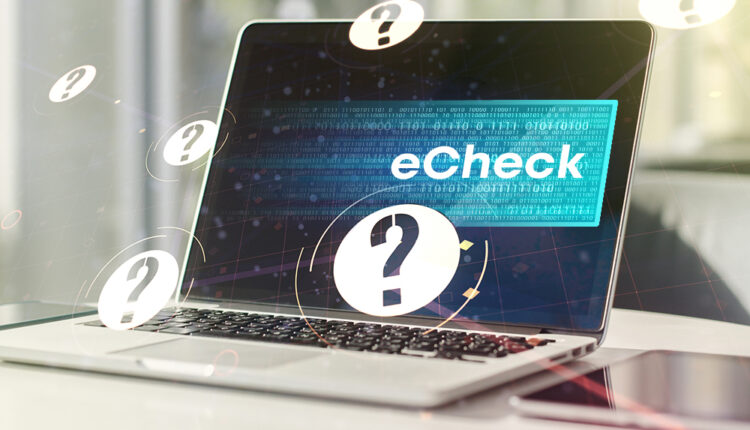 eCheck Payments: 4 Best Practices for High-Risk Merchants
eCheck payments are a standard payment option offered by most online processors. Accepting eChecks allows businesses to collect payments from customers who do not want to use their credit cards.
While eCheck payments appear to be less risky than other online payment options, they can present different challenges, especially to businesses in high-risk industries.
Why Do High-Risks Prefer eChecks?
So, what is an eCheck good for?
eChecks are a convenient way for customers to pay their bills and make purchases. If you're in a high-risk industry, eCheck payments are one of the best ways to avoid chargebacks and protect yourself from fraud.
Here's why they are a favourite for risky businesses.
Nearly 90 percent of Americans have bank accounts. This means that almost everyone can pay via eCheck. It also means accepting checks expands your customer base.
eChecks give you a competitive edge over merchants that accept only card payments. High-risk industries have special needs– they must protect transactions from fraud through traditional payment methods like checks instead of relying on newfangled methods like cards or electronic payments.
eChecks are 100% Safe. You no longer have to worry about chargebacks since an eCheck confirms the transaction right after funds have been transferred to your account. Unlike credit cards, you will no longer risk losing your money due to duplicate charges or fraudulent transactions.
Lastly, eChecks are affordable and faster than cards, which means less time spent processing payments. It's also the best approach if you don't want to worry about credit card fees.
eCheck: Best Practices for High-Risk Business
Here are some steps to make sure echecks are safe for your business:
1.    Find a reputable eCheck processor for your high-risk
If you're processing many transactions, it's important to go with a reputable processor. The Better Business Bureau offers reports on eCheck processors, so you know what to expect before signing up with one.
2.    Go for ACH over Check 21
The Automated Clearing House process is the most secure way to accept eCheck payments in high-risk industries. Find out if this is an option with your processor by calling them directly or checking their website for details on how to use ACH.
3.    Control chargeback rates
Chargebacks happen when a customer claims that an unauthorized or fraudulent transaction took place on their account after purchasing an item from you. Controlling chargeback rates will protect your bottom line and help you avoid the losses incurred from refunds.
4.    Fortify your eCheck fraud defences
Good anti-fraud practices include placing limits on daily or monthly withdrawals, reviewing transaction logs regularly and monitoring deposits for suspicious activity.
You should also have a clear policy in place if you suspect that fraud has occurred– whether you need only to cancel a specific transaction or freeze your entire account.
Last Words
Accepting eChecks can help you take your ecommerce to the next level. Follow these practices to enjoy safe and convenient eCheck processing.
Author Bio:- Blair Thomas has been a music producer, bouncer, screenwriter and, for over a decade, has been the proud Co-Founder of eMerchantBroker, the highest-rated high-risk merchant account processor in the country. He has climbed in the Himalayas, survived a hurricane, and lived on a gold mine in the Yukon. He currently calls Thailand his home with a lifetime collection of his favourite books.